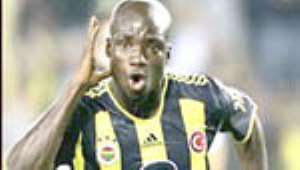 Turkish giants, Fenerbahce are ready to send their Ghanaian midfielder, Stephen Appiah back to Juventus in January.
Corriere dello Sport says the Turkish club, now eliminated from the UEFA Champions League, are in talks with Juventus, the Old Ladies' of Italian Football, about a loan deal for the Ghanaian captain.
Juve and Fener are now thrashing out terms over a fee to make the deal permanent at the end of the season.
Earlier on, Fenerbahce rejected a move by the Ghanaian to the Italian club before the European window was closed.
In a related development, Cagliari are chasing AS Roma's Ghanaian midfielder Ahmed Apimah Barusso.
New Cagliari coach Nedo Sonetti wants to stiffen his midfield and sees the Ghana international as the ideal ball-winner his team has been crying out for.