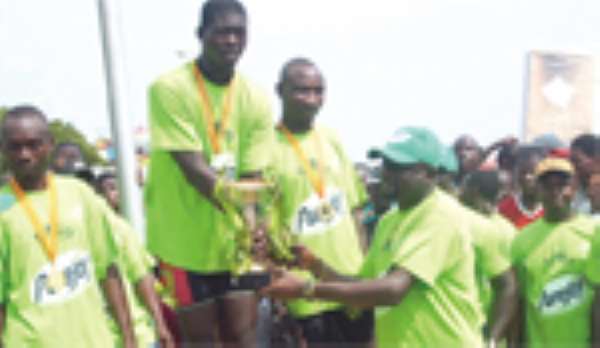 SAMUEL ANIM of Accra-based Young Stars Cycling Club last Sunday emerged winner of the 102-kilometer Purejoy Tour D'Accra in a time of 2 hours 47 minutes and 68 seconds.
He put up a splendid performance to come out victorious from among 23 cyclists who finished the race, taking home a cash prize of GH¢300, a trophy, a gold medal and a 21-inch colour television set.
The race, which started at 9.00 am with 79 cyclists, did not favour some of the big names in cycling who were regarded as favorites; the likes of Francis Tetteh of the Citi Migro Club, who placed second and Joseph Annan of the Gutten Club who finished third.
Francis and Joseph each got a 14-inch colour television set and silver and bronze medals with cash prizes of GH¢250 and GH¢200 respectively.
Winner of the last Kyerematen race, Philip Randoph of the Nippon Club, who came fourth, had a CD player, GH¢150 and a medal, while William Afful received GH¢100 and a medal for placing fifth.
Other cyclists who received a medal each and a participation fee of GH¢20 were Joseph Kudakpo, Kofi Newton and Henry Djambwah who finished in 6th, 7th and 8th positions respectively while the 9th and 10th positions were taken by Osman Aminu and Isaac Donkor in that order.
The event was attended by some important dignitaries including Mr. Hamid Issaka, National Sports Council (NSC) Public Relations Officer who represented the Chief Executive Officer; Tema Mantse, Nii Osoukaa; and Mr. Okoe Odamettey.
In a speech read for him, Mr. Isaac Tetteh, Managing Director of T.T. Brothers Ltd commended the media for giving the event the needed hype and enthusiasm, the security agencies for ensuring an incident-free event, the spectators for cheering and encouraging the cyclists throughout the competition, and most especially the cyclists for exhibiting endurance and good sportsmanship.
"To the winner, we say congratulations and to those who could not win, there were no losers today. I wish them a much better performance and good luck next time. As it is said 'participating is good, exhibiting good sportsmanship is better and participating to win is the best," he observed.
Mr Tetteh, who sponsored the programme in excess of ¢100 million, urged individuals and corporate bodies to invest in the sport and save the youth from social vices like smoking Indian hemp, alcoholism and armed robbery.
The Managing Director of T.T. Brothers Limited, sole distributors of PUREJOY and other notable products like Tango Fruit Juice, Vitamina, Mr. Brown Coffee, Classic Red and White Wine, Maracuja, and "Mac" Mackerel, intimated that he was happy to be associated with cycling.
"Our desire to sponsor the event came when we were approached by the Greater Accra Cycling Association to stir up the enthusiasm in the youth and also bring back to life this once vibrant sport of cycling", he stated.
It was his hope that the sport would be taken to all communities so that every Ghanaian would cultivate the habit of riding a bicycle between two to three kilometers a day.
He revealed that his outfit, in line with its corporate and social responsibilities, would sponsor programmes and events such as cycling but they could only do so if their products were patronized.
"We are happy to say that this year's event, dubbed 'Purejoy Tour D'Accra' was a success and we look forward to having at least another event next year and we take this opportunity to wish all a merry Christmas in advance," he concluded.
By Pierre Toto