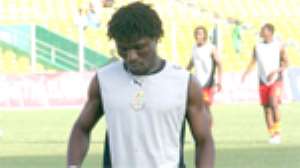 Hearts mid-fielder, Laryea Kingston says that his request to postpone his call-up to the Nations Cup has been refused by Coach Claude Le Roy.
Kingston has been playing well for Scottish side Hearts and was hoping to stay with the club beyond the Nations Cup deadline.
Clubs are obliged to release their players by January 6 for the continental tournament, which kicks-off on Sunday January 20, 2008.
Kingston says that Ghana's football authorities and Le Roy would not consider a late arrival.
"When I said I would speak to them it was a big scandal in Ghana," said Kingston.
"After that they put pressure on the coach, he called me and said 'no chance'."
Kingston underlined that he is a key player at Hearts by scoring on Sunday against Gretna, though he also conceded an own goal in the game that ended 1-1.
His 20-yard strike was his fourth goal of the week, as he netted three times for the Black Stars in the four-team tournament in Accra.
Kingston's absence for a potential five weeks will be a major loss for the Scottish club, and he says he is torn between Hearts and Ghana.
"I wanted to stay as much as I can but I don't have any option."
"It's something that I love, I want to be in the national team.
"It's good to play for your nation and your club as well." BBC