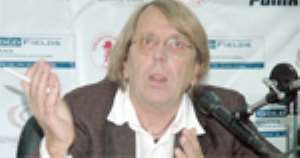 Claude Le Roy, head coach of Ghana's senior national team, the Black Stars, has chosen the United Arab Emirates (UAE) as camping location for the team.
He disclosed that the Black Stars would pitch camp in the Asian country to prepare for the 26th MTN African Cup of Nations, Ghana 2008.
Speaking to DAILY GUIDE SPORTS in Accra over the weekend, the coach said he would assemble 28 players on January 3, 2008 for the last training session in Jebaladi, UAE, where the temperature would by then be around 24 degrees. He observed that Jebaladi was a bit far from Dubai, and this would enable the players to concentrate.
"I have a very good experience about African football, having been with national teams on the continent for 23 years. And I have realized that most national teams over the world have been going to train in UAE," he stated.
Coach Le Roy said in his opinion soccer was defined in three words, namely placement, replacement and displacement, which strategy he used in the second half of the final match between the Black Stars and the Squirrels of Benin, shifting Michael Essien deep into defence and Laryea Kingston on the right flank to force their opponents' defence to concede goals.
He said he had known some players of the Benin national team, the likes of Sessegnon Stephane, Gaspoz Alain, Adjanousi Anicet and Omotoyossi Razak, whom he described as very good players plying their trade in France, Sweden and Tunisia.
The coach revealed that his target had been to win eight matches in Ghana, and he started off by defeating Togo and Benin in the just-ended Zenith Bank Four-Nation Tournament in Accra. The next games would be the group matches against Guinea, Namibia and Morocco, during the African Cup of Nations.
It would also be necessary for the Black Stars to win the three group matches, making it five victories, and then continuing with a series of three victories to take the team through the quarter-finals, the semi-finals and the final to lift the trophy at stake, he stressed.
By Pierre Toto