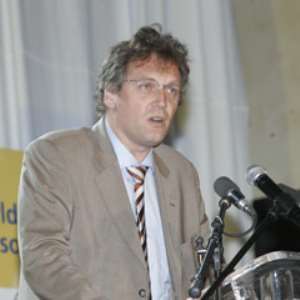 FIFA general secretary Jerome Valcke
FIFA will hand out 120,000 free tickets to South Africans for the 2010 World Cup.
Furthermore, the cheapest tickets for the World Cup will cost US$20 - but will also only be available to South Africa residents.
The free tickets will be provided by FIFA's commercial partners.
To ensure that South Africans on low incomes will be able to afford to attend World Cup matches, FIFA have confirmed category four tickets will cost as little as $20 for group matches and $150 dollars for the final - the lowest prices since 1990. Between 15% and 20% of the seats will be designated category four tickets. The most expensive category one tickets will cost $900 for the final, FIFA announced at a news conference in Durban. The cheapest tickets for overseas fans will start at $80.
Meanwhile kick-off times for the tournament will be either 13:00, 16:00 and 20:00 local time.
World Cup organisers said measures would be taken to ensure the free and cheap tickets would not be sold on to overseas fans - it has been suggested that ticket holders may have to also produce South African ID cards to gain access to the stadia.
FIFA general secretary Jerome Valcke said: "We are working on measures to make sure there is no black market."
Danny Jordaan, chief executive of the local organising committee, added: "We cannot announce the measures three years beforehand as people will try to develop counter-measures. Our target is the poor football fans in this country and if there is someone in an England shirt in that seat we will know something has gone wrong."
FIFA president Sepp Blatter expressed his confidence that all the stadia would be ready in time and said that in order to minimise labour disruptions construction workers will be given an annual bonus if they do not strike.
Blatter said: "We are not only confident but we are sure all the constructions will be ready for the 2010 World Cup. They are transparent and honest that not everything may be ready for the 2009 Confederations Cup but there are enough stadiums for that, and for 2010 everything will be ready. We are more than confident and trust the organisation here."