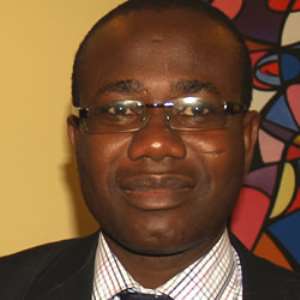 President of the Ghana Football Association spared some 14 minutes of his busy schedule on Wednesday to grant the official website an interview.
Kwesi Nyantakyi talked about the evolution of Ghana Football and talk of a separate club-body to run the premiership. He also reviewed the national teams, the Black Stars' preparations for CAN 2008 and the challenges of the job as President.
ghanafa.org: Mr President, how do you assess Ghana football?
KN: My assessment of Ghana football is that, it is a process which is on the ascendancy. We have done quite well but there is more room for improvement
ghanafa.org: Would you say there has been a revolution or an evolution?
KN: Evolution means that there is a radical change considering what we have witnessed over the past two years, I think that it is a natural development, progression from one stage to the other so I will prefer to call it an evolution.
ghanafa.org: Ghana football has witnessed changes in administrative structure. How have these changes benefited the entire football family?
KN: Following FIFA's directives for us to embark upon a legislative reform, legal structural reform of the football association, certain changes have occurred which have led to the merger of so many titles into one title and that has ensured decision making is easier and faster. There are no overlapping authorities and competences as there used to be and it's a more efficient system than it used to be.
ghanafa.org: Then why has the game suffered from litigation?
KN: Litigation has nothing to do with the structure. It is based on, I believe intolerance from members of the football association who have refused to acknowledge and accept decisions of the football association. So anytime a decision is taken which is considered by one to be at best to his interest he thinks that he has to seek redress outside the judicial mechanisms of the football association.
ghanafa.org: Would you consider making a proposal at the next FIFA congress for an action to be taken against individuals who resort to the law courts instead of the FA's judicial processes.
KN: No, it doesn't need to go to FIFA. The punishment for people who resort to the law courts is already enshrined in the G.F.A status and I think that what the FA has to do is to apply the law without fear or favor.
ghanafa.org: How can the FA as an institution make a difference in such matters?
KN: We just have to be committed to the law we apply it and we don't have to look at faces or personalities behind some of this decisions and I believe, the interest of the football association should be paramount.
ghanafa.org: In the running of the domestic league such legal actions have affected the FA's programme. What has been lost?
KN: A lot of time has been lost. A lot of resources were spent. Everything lost can never be recovered so an irreparable loss occurred in the funding, material, human resources everything and I think that it has put our programme behind schedule. Barefoot
ghanafa.org: And there has been talks about a proposal to have a different body to run the premier league, is that proposal on your cards yet?
KN: We have not heard about it. It's only been said in the press. It is not officially before the Football Association and that proposal I don't know what remedy it seeks to provide or what illness it seeks to cure. It must be very evident to all of us what ills in the setup that it seeks to cure and then we can all discuss that. From what I have heard in the press, it has no ready solution to any of the problems confronting us now so at best I will describe it as a proposal or an idea which is yet to be discussed and the full effect brought to bare on all of us.
ghanafa.org: Do you think such an agenda would benefit football at this present moment in time?
KN: I don't think so. I don't know the rational for it because those talking do not even seem to appreciate what happens elsewhere. In 2003, I was one of the first people who championed the course for the clubs to take over the running of the league and that led to a delegation going to visit the South Africa Football Association to understudy the system there. At that time, the feeling was that the FA was being run by the government, so the clubs should take over the destiny of the league into their own hands. Now, the clubs are running the FA, what else do they want, of the 22 member Executive Committee, 11 are directly elected by the others, the other 11 are indirectly elected by the clubs, of the 5 Emergency Committee members, all of them are elected by the clubs so what is the point there if we are talking litigation. What system can you put in place a structure that would be insulated from the legal process when we all know that the high court in Ghana have jurisdiction in all matters be it civil or criminal. Nobody or institution or association can be set up that can be exempted or immune or make the talk of that body coming to insure that litigation is abated is neither here nor there. Now, if we also look at the issue of some people saying that it will lead to more sponsorship or more professionalism that we want them to run the league, I don't think so. There is more work in the boardroom of the clubs for us to introduce more professionalism and so get more sponsorship into clubs which we can replicate at the league level but without the clubs the football association has been able to attract sponsorship for the first time up to $2 million based on the scientific evaluation system that was introduced. No club has done that before and so those arguments do not have any bearing at all on the running of the league, even the litigation that has been talked about, it is not the FA that brought about the litigation, it is the clubs that have gone to court and in each case this year those who went to court lost the case that they took to court and so I don't see the merit.
ghanafa.org: Talking about marketing and sponsorship, the FA has got its own commercialization drive, where have we gotten to?
KN: We have a target of $8 million a year. We lacking behind, I think that if we take all the resources we get on an annual basis we may be about 60 to 70 percent through and we need to double our efforts in order to meet the targets we have set and so more work needs to be done.
ghanafa.org: 2007 has been a busy year for the various national teams. What has been your impression so far?
KN: I think quite good. There were some problems and challenges here and there. The Black Stars have been very busy playing friendly matches, Black Meteors playing Olympic qualifiers and in All African Games. The under-20 team did not do well, they crushed out from the African qualifiers, the under-17 qualified for the World Cup and placed 4th. For the male national teams, I think the performance has not been too bad. For the female national teams we have the Queens who made it to the World Cup but performed abysmally poor, the under-20 were 3rd in the All African Games and the under-14 team won gold in the first ever under-14 competition in Zurich. I think all in all the performance has not been too bad considering the exposure that the teams gained and the placements.
ghanafa.org: How close are the Black Stars in reaching their target ahead of the 2008 Cup of Nations?
KN: We are on course. Our target is to win the Cup of Nations and in fulfillment of that target we have to play and we are on the course. There is no problem.
ghanafa.org: Player call ups for the training period preceding the cup of nations is expected to clash with some European fixtures, what is the FA's position on player invitation, is the FA going to allow players to be with their clubs and later join in?
KN: No. We will not accept that. We have 14 days to the competition. FIFA allows us to invite players and they are duty bound to honor our calls and we are not going to compromise that at all. We will stick to the law and apply the law.
ghanafa.org: The draw for the Cup of Nations comes up later in the month of October, which teams will you like to be paired with?
KN: I know that once you go into a competition and all the teams are coming and you definitely play a final match, it means you should be ready to meet any team. I believe that we have to psyche ourselves up to meet any team at all in this competition.
ghanafa.org: What are our chances of lifting the trophy on 10th February?
KN: Our chances are bright but it will remain a wishful thinking on paper if concrete plans are not put in place to actualize it and that is why we have a lot of matches lined in the build up to the Cup of Nations and I believe that God willing we should be able to realize our dreams.
ghanafa.org: What is the future like for Ghana football in your first term in office?
KN: Ghana football has a very bright future. We are laying the structures, we are putting in place a foundation to build upon and I believe that by the end of our term which is 2010, we would have seen fundamental changes in the way things are done and we will also reap a lot of benefits from the changes that we have introduced.
ghanafa.org: Do you enjoy yourself as the president of the FA?
KN: It is not an enjoyable position. It is a challenging position because on a daily basis you have to meet your targets and so you keep appraising and reviewing things to see whether you are moving on course and I think that gives me the satisfaction that we are moving ahead and we moving towards our objectives.