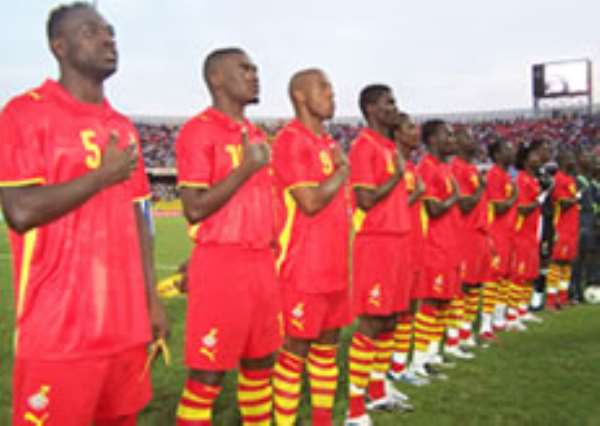 A number of football fans in the Kumasi Metropolis have expressed mixed reactions following the Black Star's 4-2 victory over the Squirrels of Benin in the final match of the Zenith Four Nation tournament which ended at the Ohene Djan Sports Stadium in Accra on Wednesday.

Whilst a section of the fans took a swipe at the Ghanaian players for been lackadaisical towards the match, some of them praised the team for doing a good job to lift the trophy at stake.

The tournament which involved Ghana, Benin, Togo, and United Arab Emirates (UAE) formed part of preparations by the Black Stars towards next year's Ghana 2008 MTN African Cup of Nations (CAN) competition.

Speaking to GNA sports in Kumasi after the final match, Mr. Albert Annan, a banker at the Kumasi main branch of the Ghana Commercial Bank (GCB), said in spite of the Stars' victory there was more room for improvement.

He advised the players to shun complacency, indiscipline and disrespect for football rules, especially on the field of play since any negative attitudes could cost the nation in the CAN competition.

Touching on Wednesday's match, Mr. Annan bemoaned the bad attitude and disrespect exhibited by some of the players, stressing that this could have attracted the fury of the referee to the disadvantage of the Ghanaian team.

The banker cautioned the players to step-up their training and be determined to win next year's competition, since they would be pitching their strength against some of the powerful football countries in Africa.

Mr. Alfred Cudjoe, a Sports Analyst commended the Stars for lifting the trophy at stake at the just ended tournament and said the feat chalked was crucial in boosting the morale of the Ghanaian team ahead of next year's competition.

"I think the Stars are in a better position to lift their fifth Nations Cup if they prepare well and abide by the instructions of the technical team," he told the GNA Sports.

Miss Grace Beauty Ade, a final year Building Technology student of the Kwame Nkrumah University of Science and Technology (KNUST), advised the technical team to extend their invitation to other locally based Ghanaian players to boost the strength of the team.

Randy Osei-Owusu, a staunch supporter of the senior national team cautioned Ghanaians against unnecessary criticisms of the team adding that it behoved on the supporters to rally solidly behind the team, even in times of difficulty to enable the Stars succeed in the competition.