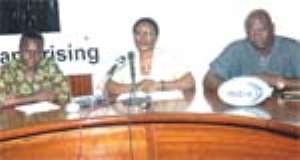 The Ghana Rugby Association (GRA) in collaboration with the Ghana Education Service (GES) yesterday launched a rugby competition among the Junior Secondary Schools (JSS) and Senior High Schools (SHS) in the Greater Accra Region.
In all five schools from JSS and six from SHS have been put in the juniors and seniors categories respectively, with sponsorship from SG-SSB, Yes Natural Mineral Water, Price Waterhouse Coopers and EST Travels.
For the juniors, the schools are Kotobabi 13 JSS, Unity JSS, High Street SDA JSS, Amoraf JSS and Abeka Motorway JSS with the seniors being represented by University of Ghana, Amanfrom Senior High School, West Africa Secondary, Christian Methodist Secondary, Kaneshie Technical Institute and Labone Secondary.
Gifty Annan Myers, president of GRA explained that the reason her outfit had taken the sport to schools was to popularise it and help in unearthing talents.
She was of the view that the future of the sport lay with the youth and that GRA would have taken it to the Central Region but for the athletics competition for second cycle institutions currently going on there.
Mr Erasmus Adokor, secretary general of the Ghana Tennis Association who represented the Chief Executive Officer of the National Sports Council (NSC) observed that his outfit had been following with keen interest, the activities of GRA since its formation in 2003 and that "NSC says 'ayekoo' to Ms Myers and her team for their efforts in making this new sport interesting and attractive".
He noted that a lot of training had gone on at Winneba to improve the sport.
Mr. Adokor launched the first Ghana Rugby Schools competition dubbed, "Inter Schools Rugby Kick Out Championship", after which he thanked all sponsors of the event.
A draw was also held and these were the pairings for the competition which starts on Saturday November 24 at the University of Ghana Rugby Park, Legon.
For the juniors, Kotobabi 13 JSS will play High Street SDA JSS, while the University of Ghana welcomes Christian Methodist in the seniors' category on day one.
On the second day of the competition, Abeka Motorway JSS will sort things out with Amamfrom JSS in the juniors and then Kaneshie Technical Institute will engage Labone Secondary on Saturday December 1.
By Kenneth Yankah