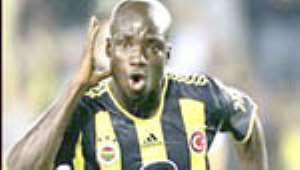 Black Stars skipper, Stephen Appiah last Monday launched a clothing range called StepAPP at the LA-Beach Hotel in Accra to support his desire of helping the needy.
The event, attended by some important dignitaries including Azumah Nelson, former World Boxing Champion, Togolese international Emmanuel Adebayor and other invited guests, was nearly marred by Akosua Puni, organizer of the show, who prevented journalists from getting access to Stephen Appiah.
Speaking to the media, Miss Akosua Puni said there should not be any interviews with Stephen Appiah during the ceremony, since according to her, it was not a moment for interviews.
Due to the intimidating atmosphere prevailing at the LA-Beach Hotel at the time, no media personnel could talk to the Black Stars skipper.
Events managers and public relations officers must note that it is the press that will always promote events of their outfits by bringing the highlights of the function before, during and after it has taken place.
It is this same media that helps to make stars who they are, and anything done to dehumanize journalists would not be in the interest of the persons we are supposedly trying to protect.
By Pierre Toto