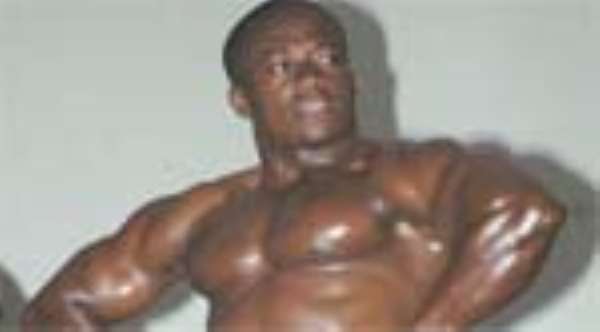 GHANA MUSCLEFLAVOUR Amateur Bodybuilding Association (GMABA), in collaboration with the Ghana Bodybuilding and Fitness Association (GBFA), will organize a bodybuilding championship on Friday November 23, 2007 at the Osu Presby Hall in Accra.
According to Mr Abdul-Hayye Yartey, Chairman of the GBFA, the event dubbed, 'Battle of the Gladiators', will feature 28 bodybuilders to be grouped into three categories- lightweight, middleweight and heavyweight. The top three athletes in each of the categories will vie for the ultimate title.
Mr Yartey said the event comes off after two qualifier competitions which were held in the Northern and Southern regions of Ghana, from which the 28 bodybuilders were selected, 10 of which are competing in the national event for the first time.
He explained that 7 athletes will be selected out of the final 9 to form the core of the national squad, the Black Muscles, who will represent Ghana in all international championships next year.
Mr Yartey observed that the end result of several weeks of intensive workouts by the contestants will be displayed on stage in front of anxious fans as the contestants attempt to wrestle the crown from defending champion, Samuel Asante, alias Obour.
Already, Mustapha Richardson, Cornelius Ankrah and Christopher Antoh have vowed to annex the giant trophy at stake.
The 28 athletes will not only try to impress the judges but also exhibit their techniques and skills before some dignitaries, including Mr. Prince Oduro-Mensah, Chief Executive Officer (CEO) of the National Sports Council (NSC), Honourable O.B. Amoah, Deputy Minister for Education, Science and Sports and other officials of GBFA, Mr Yartey noted.
"The gate fee will be GH¢3 and GH¢5 for the event to enable Ghanaians to turn up in their numbers. This year's event is being supported by the NSC, the African Federation of Bodybuilding, Star Phones, Abusua Restaurant, Maximum Gym, Mega Force Security, Allahu Akbar Furniture Shop and Supplement Zone," he disclosed.
He further appealed to all Ghanaians to troop to the Osu Presby Hall on Friday 23rd November to join the crusade towards reviving bodybuilding in the country.
By Pierre Toto