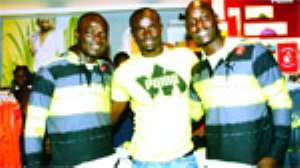 Last Saturday witnessed the launching of one of the latest attractions, the 'Puma' outlet, at the newly built Accra Mall.
Puma which is known worldwide by its panther-like logo was founded in 1924 and has a long-term mission of becoming the most desirable Sport lifestyle company.
The aim of Phase IV of Puma's long-term business plan, which was launched in 2006, is to reinforce its position as one of the leading multi-category Sport lifestyle brands to ever exist, and this they would achieve by continuing to do what they have always done - harnessing their resources and experiences to provide consumers with innovative products that successfully fuse creative influences from the worlds of sport, lifestyle and fashion.
The event featured a fashion show with models from the Exopa Modeling Agency (including owners' of the agency), who elegantly displayed designs from the label.
The models catwalked in this year's summer and spring collections from Puma, which are currently on sale at the Puma shop within the Accra Mall at the Tetteh Quarshie interchange.
By Chi