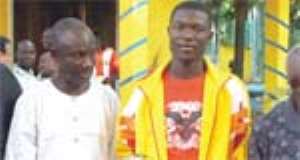 THE MUCH-publicized Sports Academy Reality Show came to an end last Monday with a ceremonial press conference at the MTN/Metro Sports House at Ridge in Accra.
The final five team-mates, namely Ompong Kwame Oti, Bismark Amponsah, Munir Zaid, Collins Akowuah and Gideon Baah who emerged winner, were presented to fans and the media to answer questions related to their experiences in the MTN Academy House.
Speaking to the gathering, Mr Talal Fatal, Chief Executive Officer (CEO) of MetroTV, thanked those who helped to make the programme a success, such as the media, sponsors, staff of MTN/Metro Sports Academy and supporters.
Gideon will leave the country on December 3, 2007 for a two-week trial with Chelsea's Academy side. Mr Tunde Adelakum, Representative of Chelsea Sports Academy in UK will join Gideon on the UK trip.
He explained that he came into contact with Mr Fatal during the Academy's visit to Ghana last May to present Right-to-Play, a non-governmental organization (NGO).
"It will be very challenging (for Gideon Baah) because we always look at it to be a bit difficult for a young player coming from Africa in a different environment to fit into a squad made up of young ones in Europe who started football at the age of 7 or 8 years," he noted.
Mr Tunde said though it will not be easy for Gideon to be immersed into the Chelsea Academy, he wishes the player the best of luck as he prepares to embark on the trip to UK.
Speaking to DAILY GUIDE SPORTS, Gideon said he learnt a lot whilst in the competition, from which any team-mate could have emerged victorious, but with prayers from the family, he managed to sail through.
"I now see my career as very challenging. I know that it is time for Winter in Europe but I am compelled to go to also prove a point. With God nothing is impossible."
He thanked all those who supported him including his family, friends, the media and other sympathizers who always tuned in to watch the MTN Sports Academy Show.
It would be recalled that Gideon placed first at the Sports Academy House to win a magnificent trophy, a Hyundai car, ¢50 million with a ¢5 million signing-on fee to Zaytuna United, as well as the chance to train with Chelsea Academy which would also serve as an opportunity for him to justify his inclusion.
He was followed by Collins Akowuah who received ¢15 million in addition to ¢5 million as signing-on fee, while Munir Zaid, placing third, got ¢5 million and another ¢5 million as signing-on fee to Zaytuna.
By Pierre Toto