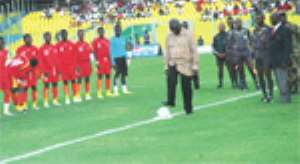 President John Agyekum Kufuor yesterday commissioned the Ohene Djan Sports Stadium in Accra, with a call on all Ghanaians to ensure that CAN 2008 is the best tournament ever witnessed on the African continent.
According to him, since the event would mark Ghana's finest moment in soccer, and hence international relations, "all of us should be committed to hosting a memorable tournament".
President Kufuor noted that as hosts of the 26th edition of the African Cup of Nations, the country was required to submit at least four world-class stadia, and within 20 months of winning the bid, the Ohene Djan Sports Stadium had been remodeled to host the opening and closing ceremonies, with a capacity of 40,000.
After commending the contractors for a job well-done, the President observed that the socio-economic potential of the Ghana 2008 tournament was immense.
"With the anticipated hundreds of thousands of guests who will visit Ghana for the tournament, the tourism sector will also receive the needed boost leading to further growth of our economy.
Government is committed to providing such state-of-the-art stadia in all the regions of Ghana to afford every citizen equal opportunity in taking part in sporting activities."
He took the opportunity to extend warm felicitations to Ghana's Premier Club, Accra Hearts of Oak on the occasion of its 96th anniversary, after which he declared the refurbished Ohene Djan Sports Stadium duly commissioned.
Earlier in his submission, Chairman of the LOC, Dr. Kofi Amoah had commended government for investing in football, which was the passion of the nation.
On his part, the contractor, Ernest Terriconi of Michelleti emphasized that his outfit had delivered the Ohene Djan Sports Stadium to the government and people of Ghana "on time and within budget".
The ceremony attracted highly placed personalities such as Speakers of Ghanaian and Kenyan Parliaments; Chairman of the Council of State, Prof Adzei Bekoe; President of GFA, Mr. Kwesi Nyantakyi; ministers of state; Members of Parliament (MPs) and members of the diplomatic corps.
Meanwhile Ransford Osei of the national under-17 team, the Black Starlets, registered his name as the first player to score at the new stadium in a memorial match against the Togolese Under 17 side.
He converted a 12 minute penalty to give Ghana the lead and added two more goals in the second half.
By Mohammed Muniru Kassim