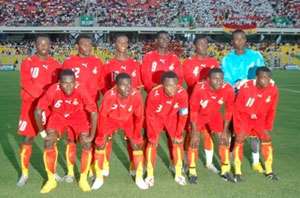 Starlet Team which beats Togo
Ghana's Black Starlets gave fans that thronged the Ohene Djan Stadium for the official inauguration of the venue yesterday a perfect reason to smile when they thrashed Togo 4-1 in a special international friendly. The Starlets, playing Togo for the first time since losing 0-1 to the visitors when they last met at the African U-17 Championship in March in Togo, had a faultless game fit for its sort.
Ransford Osei began the rampage when he shot Ghana ahead on the 14th minute from a spot kick after hard pressed Togolese defence handled the ball in a bid to stage a clearance.
The visitors reaction was swift but Ghana's goalkeeper, Joseph Addo proved equal to a test initiated by Aloenohovo Packer two minutes later. Togo got better as the game progressed but were unable to pull even before the close of the first half.
Both teams returned from recess more purposeful but it was Osei, who credited Ghana with a second goal on the 51st minute when he finished a fine move originated by hardworking Daniel Opare.
Opare, who excelled all day, picked out Osei with a cross from the right flank for Osei to head home in a manner that drew applause from the expectant crowd. Just when Togo seemed to have recovered from their shock, Osei hit them harder with his third for the day that earned him a hat-trick in the 64th minute.
After this goal Togo seemed to have found their rhythm and began to piece their passes together, creating problems for the host. Their consolation was to come in the 81st minute when Gabiamu Vieron scored through a beautiful solo effort.
Ghana's trainer, Emmanuel Quarshie effected a number of changes, which worked in his favour.
One of his substitutes, Richard Mpong wrapped up the game for Ghana with only three minutes left to play by ramming in a long range shot. The game resurrected both sides with Ghana proving more dominant in the closing stages but none of their various incursions could change the score line.