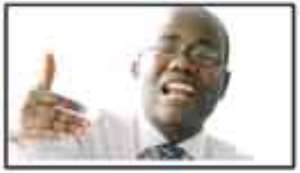 GHANA TEXTILE Products (GTP) yesterday presented a cheque for GH¢40,000 (¢400 million) to management of the Ghana Football Association (GFA) at a short ceremony at the FA Secretariat in Accra.
The ceremony, lasting half an hour, was attended by Mr Kwesi Nyantakyi, President of the GFA, Mr Randy Abbey, FA Executive Committee member, Mr Kwabena Yentum and Mr Paul Twum, Marketing Director and Finance Manager respectively of GTP.
According to Mr Abbey, the money w as for the sponsorship of the four-nation football tournament to be held in Accra from the 17th to 21st of November this year involving hosts Ghana and United Arab Emirates, with Benin and Togo replacing Guinea and Sudan, who withdrew from the tournament earlier on.
Mr Nyantakyi, receiving the cheque on behalf of the GFA, congratulated GTP for their gesture and the support given to the Senior National team, the Black Stars.
"We had earlier on witnessed a timely support for the Stars at a ceremony where another company presented some fitness equipment to the GFA for the Stars and now it is GTP that has brought their support in money and some products," he noted.
He said he wished that in future, when the GFA's relationship with GTP solidifies, the company will make products in the colour of the Black Stars, so that they will be counted among the elite of long-term Stars supporters.
Mr Nyantakyi promised the GTP that the GFA would make sure the investment does not go waste.
"We have a good management, good coach, and good players already assembled in Europe to be able to win the tournament," he stated.
Mr Paul Twum explained that the package of GH¢40,000 to the GFA marks the beginning of a long-term relationship in which his outfit will eventually be providing fabrics to all the national teams annually.
"We are very much excited about the development of football in the country, and GTP is no stranger in soccer because in the 70s, we had a club named Dumas that groomed so many good players in Ghana in the example of Willie Klutse who featured permanently for the Black Stars," he revealed.
According to Mr Twum, the GTP believes that its relationship with the FA will push them to a brighter future.
On 18th November, 2007 the company will launch its fabrics using an aircraft flying over the stadium during the four-nation tournament, offloading products to lucky fans.
By Pierre Toto