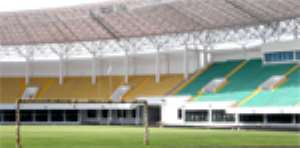 Thousands of enthusiastic soccer fans on Saturday night trooped to the newly constructed Tamale Sports Stadium to watch an exhibition football match between the Media XI and Anta XI.
The Media XI played a pulsating and well determined game but lost to their opponents by 4 goals to 3. All the four goals for the Anta XI side were scored during the first half when Kwabena Gyemfi and Iron capitalized on defensive blunders to teach their opponents some scoring lessons.
The mediamen however reduced the deficit some two minutes to the end of first-half through Edmond Gyebi of the Chronicle newspaper.
The media in an attempt to win the day, dominated the entire second half that got them a penalty in the 68th minute when Carlos of Fiila Fm was brought down in the 18-yard box resulting in the second goal.
The last goal of the game came through a free kick in the 89th minute. It increased the score of the media to three, crowning their opponents instead as winners.
Disappointment was written on the faces Media XI players due their inability to carry the day on the well designed pitch.
The Northern Regional Minister, Alhaji Mustapha Ali Idris who exhibited his commentary expertise in the commentary box, after the match appealed to soccer fans in the region to eschew violence and preserve the stadium for its intended purpose.
According him, if the facility was well utilized, the region could be earmarked for other equally important projects. The minister called on the various communities to support activities of the CAN 2008 to make it a success.
For many residents within the Tamale Metropolis, it was an opportunity to have a glimpse of the architecture of the newly constructed stadium.
There was however confusion at the entrance, as most of them wanted to have access to the stadium through the inner perimeter as done in the Kaladan Park. Security personnel had a hectic time controlling spectators as only one of the many gates was opened.
The Tamale Sports Stadium was constructed by the Shanghai Group of Companies, a construction company from China. The facility, which was officially handed over to the government last month, would host Tunisia, South Africa, Senegal and Angola in Group D of Ghana 2008 African Cup of Nations, from January 20 to February 10, 2008.
From Stephen Zoure, Tamale