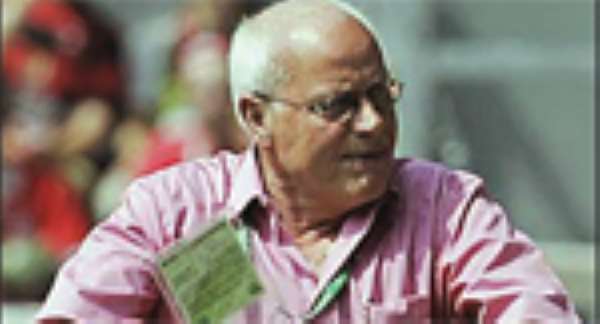 CAMEROON FOOTBALL Federation (FECAFOOT), led by its President, Mr. Iya Mohamed, has expressed dismay over the appointment of Otto Pfister as head coach of the Indomitable Lions.
Reports reaching DAILY GUIDE SPORTS from Yaounde indicated that when the Minister for Youth and Sports, Mr. Augustin Edjoa invited officials of the Cameroon FA for a meeting last Friday in connection with the signing of Otto Pfister, the FA President deliberately refused to honour the meeting.
He was represented by his Vice, Mr. Francis Mveng who in his turn, refused to append his signature to the contract involving Cameroon FA and Otto Pfister.
A Cameroon FA source revealed that the Minister, who was present at the meeting with other officials of Cameroonian government had no option but to adjourn the meeting to Wednesday November 7, 2007 at Hilton Hotel in Mont Febe Palace in Yaounde.
According to Mr. Iya Mohamed there were five reasons his secretariat would not be able to contract coach Otto Pfister, one of which was that the FA did not know how Otto Pfister came by the deal to handle the senior national team of Cameroon.
Secondly, the FECAFOOT said, it would not be responsible for the 30 million CFA ($60,000) per month salary of the coach, for a three- year contract.
Thirdly, the FA maintained it would not sign any agreement with Otto Pfister at the Wednesday meeting.
According to the Cameroonian FA, Otto would not be the Technical Director at the FECAFOOT; if he would be given any role at all, he would work under Mr. Dominique Wansi, a Cameroonian FIFA Instructor in charge of Technical Development of FIFA Projects in Cameroon.
Finally, Mr Iya pointed out that with the power vested in him as president of the FA, in consultation with other executive members, he had decided not to sign on Otto Pfister, who was expected in the country yesterday evening.
DAILY GUIDE SPORTS investigation revealed that even if the German coach managed to sign the contract to handle Cameroon, he would not be recognized by the Federation of International Football Association (FIFA) in case of a legal dispute on his contract, because FIFA only recognizes the FA; not the government, which is behind Otto Pfister's contract presently.
By Pierre Toto