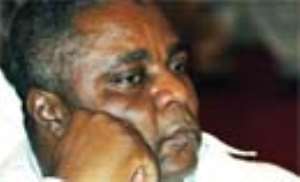 Information reaching the Sports Desk of DAILY GUIDE indicates that Fabulous Kumasi Asante Kotoko may be dragged to court by a sports wear company.
According to the management of Sports Exchange Ghana Limited, suppliers of sports equipment, it would take legal action against the Porcupine Warriors if they failed to honour their financial obligations to the company.
Explaining, Mr. Adade, Managing Director of Sports Exchange Ghana Limited said after the Ghana Football Association (GFA) Congress of July 17, 2006, the management of Kotoko bought sports equipment and jerseys to the tune of ¢33 million from the company, but had since failed to settle their debt.
He mentioned other clubs that owed the company as Aduana Stars and Bolga Stars (¢9 million each), Tano Bofoakwa (¢12 million) and Topsymore (¢7million).
Others are National Sports Council (NSC) (¢33 million) and Planning Committee of the Eastern Regional Women Soccer League Association (¢76 million).
Speaking to DAILY GUIDE SPORTS in Accra yesterday, Mr. Adade expressed disappointment over the manner in which football administrators handled clubs and businesses regarding players' transfer in the country.
"With the goodwill and other sponsorships that big clubs in the country enjoy, they are still refusing to settle payments for basic dressing equipment," he pointed out.
According to him, all efforts to get the money from those clubs in the past one year, had proved futile and the company would be compelled to take legal action against Kotoko and the others if they failed to settle the debts this time around.
By Pierre Toto