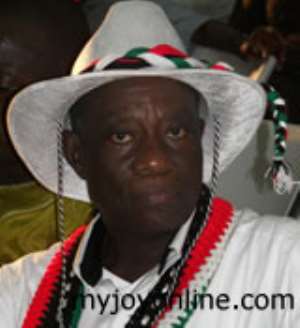 Former Vice President, Prof John Evans Atta Mills, has urged the Local Organising Committee (LOC) of the Ghana 2008 to ensure that the tournament is made affordable to as many Ghanaians as possible.

He has, therefore, called on the LOC to lobby the Confederation of African Football (CAF) to reduce the rates or lobby the government to subsidize the rates at the gates for all the matches.
While acknowledging that the Nations Cup is a CAF-organised competition, Prof. Mills insisted that CAF needed to be told that the rates are beyond the means of most Ghanaian fans.
Speaking to the Graphic Sports at his office last Wednesday, the flag bearer of the minority National Democratic Congress (NDC) party for the 2008 elections, said to sell the nation would be to ensure that the various stadia were filled during the tournament.
Prof. Mills described the ¢100,000 to be charged at the popular stands as a bit on the high side for the average Ghanaian.
"We need patronage, we don't want empty stands. What do you expect when ordinary Ghanaians build huge stadia without being able to fill it. Africans must be encouraged to patronise their own matches , he added.
According to him after personally visiting the newly-constructed Tamale Stadium, he reckons that the facility is magnificent but wonders how it could be filled if the rates remain as they are now.

"If you consider that one needs to raise at least ¢600,000 to watch all the matches that Ghana will play from the group stage to the final, then one will appreciate how difficult it will be for the fans in the low income bracket".
Prof. Mills, who was once the Chairman of the Black Stars Management Committee, noted that the competition is coming at a time when most Ghanaian pockets would have been emptied after Christmas.
He, however, commended the government for the massive investments in the infrastructure for the hosting of the tournament, adding that the move will form the basis for future governments to build upon.

He lauded the LOC for their efforts so far and urged them to bring on board other Ghanaians with expertise to help ensure that Ghana 2008 becomes a memorable one.