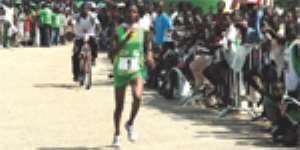 In a bid to augment the national athletics team, the Ghana Athletics Association (GAA) will this weekend organize a two-day athletics competition in the newly constructed Essipong Sports Stadium in Sekondi.
The two-day competition, which will be the first since early 2006, is expected to help unearth young and budding talents especially in the region.
According to the Head Coach of the athletics team, Sandy Osei Agyemang, everything is being done in order to get youthful talents to augment the current team, some of who are aging.
Athletes such as Eric Nkansah, Abu Duah and others have already hit their peak and about hitting a downturn in their career, so the exercise is considered as necessary.
Vida Anim and Margaret Simpson, who are now world class athletes, were both unearthed during similar exercises in Kumasi.
The two-day event is expected to include some top local athletes such as Millicent Boadi and Gifty Addy.