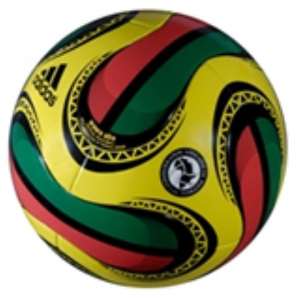 With barely two months for the hosting of the African Cup of Nations (Ghana CAN 2008), MTN and Pepsi Cola, official sponsors of the tournament have failed to promote or sponsor any events at the Tamale Venue.

The two sponsors have said to have not as yet assisted in the beautification projects of the Metropolis or any of the events towards a successful hosting of the tournament at the Tamale venue.

Mr. Mohammed Amin Adam, Tamale Metropolitan Chief Executive (MCE) said this at a press conference in Tamale to throw light on the preparedness of the city and the Tamale Venue Organising Committee (TVOC) to host the tournament.

He said there was therefore an urgent need for the sponsors to meet with the Metropolitan authorities and the TVOC to discuss a collective and collaborative effort of marketing the "New Ghana", which was the shared responsibility for all the venues hosting the event.

Mr Adam therefore appealed to the Local Organising Committee (LOC) to treat Tamale fairly and accord respect to the Metropolitan Authority and assist the venue with the resources so that together they could register success in hosting the event.

"Their continuous silence may compel us to take desperate measures to invite other corporate bodies to assist us make our venue a lasting legacy for the tournament", the MCE threatened.

On preparations so far made towards the tournament, Mr. Adam said the street lightening project of the Metropolis was progressing steadily which he said will provide 25 kilometres of streetlights to areas relevant to the games before the tournament.

Mr Adam said an additional 40 kilometres of streetlights would be fixed after the tournament to brighten up the entire Metropolis.

He gave the assurance that work on the beautification of the roundabouts in the Metropolis would be completed before the start of the games, adding that the Parks and Gardens and the Dakpema roundabout had taken shape while the Lamashegu roundabout had been completed.

He said the construction of new roads leading to the stadium and major hotels were also far advanced while UNICEF was also assisting to prepare an emergency response plan for water supply in the city.

As regards hotel accommodation and restaurant services, the MCE noted that the city's ability was not 100 percent and therefore appealed to private family homes and other institutional facilities that had been put at the disposal of the TVOC to be used to accommodate the expected visitors.

Mr. Adam said the Tamale venue would be hosting such strong football nations in Group "D" made up Angola, Senegal, South Africa and Tunisia and which the soccer loving fans should expect to witness some of the toughest and most exciting teams.

The MCE said the event was a unique opportunity for businessmen to reap enormous economic gains and therefore urged them to take advantage of the fiesta to make good returns and also provide quality services to the visitors.