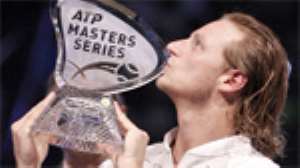 Unseeded David Nalbandian claimed a shocking victory over world number one Roger Federer in Madrid on Sunday. Nalbandian came from a set down to win.
Roger Federer should have seen it coming. One by one, David Nalbandian was picking off the best that tennis has to offer.
Nalbandian beat Federer 1-6, 6-3, 6-3 Sunday to win the Madrid Masters. On his way to the final against the world's top-ranked player, Nalbandian also defeated Rafael Nadal and Novak Djokovic.
"I usually play better in the finals, but it had something to do with the way he played today," said Federer, the defending champion. "I guess when you beat Djokovic and Nadal back-to-back, you come into the final here very ready."
The Argentine broke Federer three times and became the second player this year to beat the top three players en route to winning a title. Djokovic did it in Montreal in August, culminating his run with a victory over Federer. Boris Becker had done it 13 years earlier.
Federer fell to 6-4 in finals this season. He was playing in his first tournament since winning his fourth straight U.S. Open six weeks ago. This was Federer's first loss on indoor hard courts since Nalbandian rallied to win at the Masters Cup in China nearly two years ago.
"His serve surprised me some and I couldn't play as offensively as I hoped, and when I had a chance I didn't play it as I liked," Federer said. "Today, I'm not too disappointed because I had a good tournament. I played the first four matches well."
The 25th-ranked Nalbandian, a former Wimbledon finalist once ranked No. 3, won his first title since the Estoril Open in May 2006.
"When I am physically and technically good, I can beat anybody," he said.
Federer won just six of 22 return points in the final set and made 38 unforced errors for the match. Nalbandian took control by moving Federer across the court with a variety of strokes.
"It's a great way to finish the season and to go into the next one," Nalbandian said. "To beat such great players as I did this week makes it important."
Federer got his first break in the fourth game of the first set after Nalbandian hit weakly into the net. Federer broke again to go up 5-1 after Nalbandian's backhand was called wide.
Nalbandian, a finalist in 2004, started strongly in the second set. He became the first player to break Federer in Madrid this year when the Swiss star sent a cross-court forehand long.
Nalbandian's serve twice saved him in the seventh game, and his volley at the net got past Federer to make it 5-2 before both players held. Nalbandian broke again in the third game of the final set when two straight long shots by Federer sailed out. AP