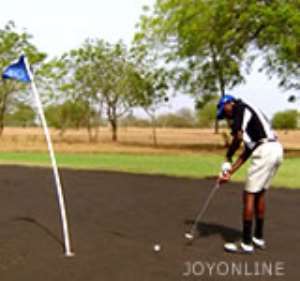 All is set for the Ghana Commercial Bank Limited Accra Open Golf Championship which tees off at the Achimota Golf Course in Accra on Saturday, October 27 and ends on Sunday, October 28.
The two-day 36-Hole Scratch event, open to amateur and professional golfers throughout the country, is expected to attract more than 150 participants.
Mr Kwesi Oteng Aboagye, General Manager of the Achimota Golf Club, who announced this in Accra on Tuesday said, the event which shall be played under the rules of the World's Golf governing body and the local rules of the Achimota Golf Club, has very attractive prizes at stake.
Among an array of golfers who had registered for the competition included Bob Evans, Mike Aggrey, Dan Dennis, Charles Tabi, Paul List and Mike Ezan, all of the Achimota Golf Club.
Tema would also parade golfers like Paul Nukunu, William Asiedu Yebeoah, and Felix Owusu-Adjapong.
Mr K.G. Osei Bonsu, Board Chairman and Mr Lawrence Adu-Mante,Managing Director, both of the bank would grace the occasion.
Mr Osei Bonsu Amoah, Deputy Minister of Education, Science and Sports is the special guest of honour.