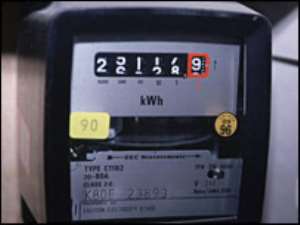 The Electricity Company of Ghana (ECG) and Volta River Authority (VRA) have promised to give consumers improved services following an approval of increased tariffs for the two organisations.
The Public Utilities Regulatory Commission (PURC), over the weekend granted a 35% tariff adjustment for the cost of electricity, but the ECG and VRA say the 35% increment falls short of the cost of power generation.
Speaking on Joy FM's Super Morning Show on Monday, October 22, 2007, Chief Executive of the VRA Mr. Joshua Ofedie said, the money can not cover expenditure on crude oil for power generation.
He said they would go back to the PURC to discuss the basis for the 35% increment, because they were asking for between 60-100%.
He argued that the amount of money the VRA needs to buy 450,000 barrels of crude oil a month of the Takoradi plant can not be raised through the 35% increment.
He said VRA's total revenue is just $30 million and therefore, they needed more money to be able their plants, including the emergency plants.
Meanwhile, Mr. Ofedei says, VRA is expecting to be recapitalised from the Eurobond issued by the government recently.