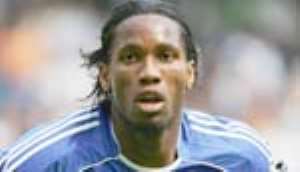 Didier Drogba is unhappy at Chelsea and wants to leave the club, according to France Football magazine. In an interview published yesterday the striker, 29, says morale has plummeted since Jose Mourinho left.
"I want to leave Chelsea. Something is broken with Chelsea," Drogba said. "The damage is big in the dressing room."
But Chelsea said: "Didier signed a new four-year contract last year. As a top professional we're sure he is committed to Chelsea and intends to honour it."
France Football is a well-established magazine in France that awards the Ballon d'Or for the European Footballer of the Year.

Drogba joined Chelsea from Marseille for £24m in July 2004 and has been the subject of regular speculation since then despite a prolific record with the Blues.
He signed his new deal last November but told the BBC the following month that he had considered leaving the previous summer in the wake of Chelsea's second successive league title.

In the interview, Drogba is quoted as saying he wanted an even earlier exit and will not change his mind even if the club make high-profile signings next summer.
"Nothing can stop me from leaving now," he said.
Drogba says Barcelona, Real Madrid, AC Milan or Inter Milan would be his preferred destination.
"Since the day I arrived, I wanted to leave Chelsea and then again every summer," he said.
"I know that Ronaldinho and Kaka are linked to come next season but even that won't change my mind."
In another twist, the Chelsea striker says he regrets his comments in the French magazine.
"I am a Chelsea player and will be 100% committed and supportive to my manager, my team-mates and the club," he said in a statement released by Chelsea. BBC