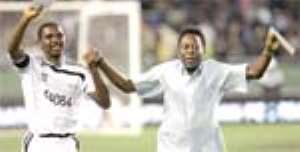 Barcelona's Cameroonian striker, Samuel Eto'o has been granted Spanish citizenship, after swearing allegiance to the country's constitution.
It means 24-year-old Ivory Coast midfielder Yaya Toure is now the Catalan side's only non-EU player.
It follows Brazil's Ronaldinho and Mexican Giovanni Dos Santos becoming EU citizens back in August.
The Spanish football federation's move to consider Africans as EU players may make the changes of status unnecessary.
This follows the Spanish parliament's ratification in April last year of the Cotonou Accord, which was signed in 2000.
The agreement means workers from 77 African, Caribbean and Pacific nations can be treated as guest workers under European Union designation.
Eto'o, who is expected to be sidelined until December after undergoing surgery on an injured tendon in his right thigh, joined Barcelona from Mallorca in 2004.
The Cameroon striker helped the team win the UEFA Champions League in 2006 and the Spanish league in 2005 and 2006.
The 26-year-old began his career with Real Madrid and had loan spells with Leganes and Espanyol.
He has been voted Africa's top player three times. BBC