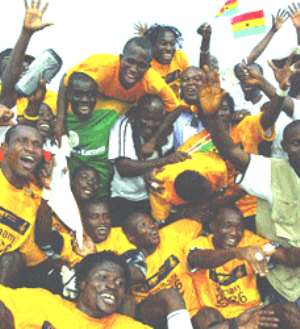 •Ghana fans -Pix: Sun News Publishing
The chief coach of the Ghana national Under–23 team, Cecil Jones Attuquayefio, has boasted that his team would qualify for the 2008 China Olympic Games, despite the 2–3 loss to Nigeria.
"It was quite a good game and your team won today, but I am still confident that we, and not Nigeria, shall be at the Olympics. It was a very good game and Nigeria proved the better side with the result, but I can assure you that we shall go ahead and win our remaining matches and, God help Nigeria if we meet again.
"My boys made some mistakes, which led to the goals that killed our plans to win in Abuja, but we are still very hopeful of making it to China. Nigeria and Ghana have a long tradition of rivalry and each time both countries meet it was always explosive, and today's game has proved that.
"We are going to work hard to beat Ethiopia and South Africa before we engage Nigeria again and I hope to strengthen my team so that we do not lose another match again," the coach, who led the same team to pick a draw in Abuja, thus picking the ticket for the All Africa Games, stated.
Asked why he did not attend the post-match meeting, Attuquayefio said he was so disappointed by the result that he forgot about the post-match and left with the team. He added that his boys failed to do what he directed them to do on field and they thus lost the match.
He praised Nigeria's coach Samson Siasia for being able to decode his game-plan and for coming back from being 1–2 down to win, stating that the young man is learning faster than he expected but warned him to forget the ticket to China.
On his best player of the match, he picked Asamoah Gyan and skipper Helegbe, who both controlled the midfield with ease. He said Nsofor Obinna was Nigeria's best for the match, as his dazzling run was too much for his defenders.
By Richard Jideaka, Abuja