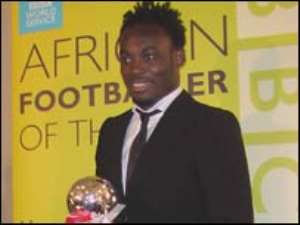 Ghana's Michael Essien is the BBC African Footballer of the Year
Ghana midfielder Michael Essien received his 2006 BBC African Footballer of the Year award during an impressive ceremony in Accra on Monday.
The Chelsea ace was presented with the award by three-time African Footballer of the Year Abedi 'Pele' Ayew.
Essien beat Ahly and Egypt playmaker Mohamed Aboutrika and Ivory Coast's Didier Drogba in the fans' vote.
An elated Essien said: "I can't express how happy I am today to receive this coveted award."
"I am very delighted to have won the award because it is a total recognition from fans across Africa.
"I want to thank my family and fans for voting for me and I want to assure them that my best is yet to come.
Abedi Pele praised Essien: "He is a great player and for both club and country, he truly deserves this award."
"This award really means a lot to African footballers and we thank the BBC for instituting it."
Ghana's deputy sports minister Osei Bonsu Amoah said Essien is portraying a good image of the west African country with his performances on the field.
"Every time Essien kicks the ball on the field it is a good advertisement for Ghana," Amoah said.
"We're confident that in the coming few years he will be the best player in the world."
For the first time in the history of the prize, the winner was decided live during the BBC World Service's flagship African sports programme Fast Track.
The BBC award took into account the football calendar from January to December 2006 and includes domestic leagues, continental club competitions and internationals.