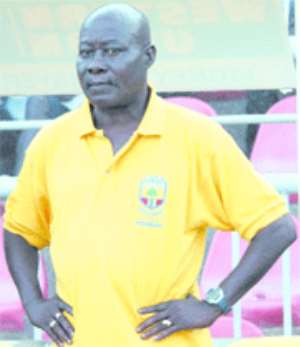 Dear Editor, I urge all Ghanaians to rally behind the head coach of the national Olympic football team, the Black Meteors, Cecil Jones Attuquayefioto, as they face Nigeria in Abuja this weekend in the 2008 Beijing Olympic qualifier.
After beating the same side to pick a ticket for this year's All Africa Games in Algeria, the pressure will be on the Nigerian coach, Sampson Siasia, to redeem his image. The battle will definitely be umcompromising.
But I trust Jones, one of the best technical brains on the continent, to bring his experience to bear and qualify Ghana for the Olympics.
We must be mindful that the battle does not involve Nigeria alone, for, there are Ethiopia and South Africa also to conquer to book a place among the big boys.
Considering the pedigree of Jones and his assistants, J.A Sarpong, Frimpong Manso and Abubakari Damba, and the calibre of players invited (both local and foreign), I am very confident that we will triumph over our opponents.
We should take all the six qualifying matches seriously no matter the opposition and the venue.
It will be 'pay back' time for both South Africa and Nigeria who lost to Ghana at the senior level and we must be guided by that.
The South African U-23 side, the 'Amagluglug' were edged out by the Meteors during the 2004 Athens Olympic qualifiers, and their senior side, the 'Bafana Bafana', also lost to the Black Stars during the last World Cup qualifiers.
The 'Super Eagles' of Nigeria also suffered their heaviest defeat for so many years at the hands of the Black Stars who walloped them 4-1 in London early this year, while their national U-23 side were also knocked out by the Meteors during the final eliminator of the All Africa Games.
Against this background, the Meteors will have to be very alert. All the invited players, I belive, are up to the task and with the inclusion of Asamoah Gyan, Suley Muntari and Yao Kumordji, the sky should be the limit.
INSHA ALLAH', we shall qualify for Beijing 2008 and win the gold medal to become the third African country to annex the championship after Nigeria in 1996 and Cammeroun in 2000 at Atlanta and Sydney respectively.
Mohammed Inusah(Mendieta),
K.U 319A Kukuo-Tamale.