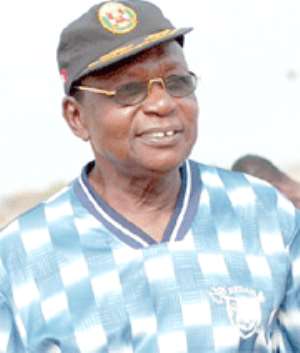 Veteran football coach, Fred Osam-Duodu, says he is still relevant to Ghana soccer and has enough energy in him to carry on with the only work he has enjoyed since adulthood.
"Why should I retire now when I can place my experience and expertise at the disposal of the younger generation," the coach of Ghana's Under-17 football side, the Black Starlets said in an interview with the Graphic Sports at the team's camping base at the C.K. Gyamfi Sports College at Winneba.
Osam-Duodu was reacting to a recent call by a senior coach, Jesse Randolph, who though remains by far Osam-Duodu's junior insists that the Starlets' coach had outlived his usefulness and needed to be retired and give way to the younger generation.
"Coaches like Randolph should rather be interested in what I can offer them now than to ask that I retire with all the knowledge they acknowledge that I possess.
"In any case, it is not strange that experienced or older coaches train young teams like the Under-17 squad since such coaches are deemed to have the patience to impart both technical and tactical knowledge.
"My services are being sought all over the world and remember I was chosen as technical head of the African side that played Europe in two matches in the new format of the Meridian Cup before the African Under-17 championship in Togo.
"If I am irrelevant to the younger generation, would anyone find me the ideal coach to take Africa to the two-leg tie," queried the over-70-year-old coach who has been made a coaches instructor by FIFA.
Osam-Duodu was also coach of The Gambia when they hosted and won the African championship in 2005, but he missed the chance to make history with the Starlets when they managed just bronze in the Togo championship in March this year.
"Football is my love. I have lived and worked for football throughout my adult life. I don't know any other love anywhere. Once I have enough energy and strength to carry on with my work, I will do it," he said.
Story by Michael Quaye