Ghana's Ossie in fight to the finish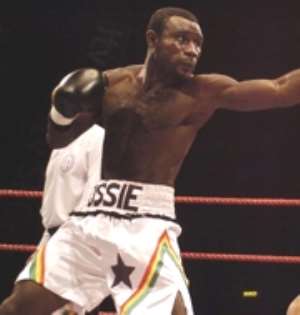 Ossie Duran, born in Ghana 30 years ago, gave James Kirkland a run for his money in their junior middleweight bout in Santa Ynes, California, on Friday night.
Duran suffered the sixth defeat of his career as Kirkland took his record to 19-0, with 16 stoppages.
Kirkland dropped Duran within the opening minute of the bout but this time there was no short cut. He had to work hard for the full ten rounds to win 95-94 and two scores of 97-92.
Duran's record now stands at 23-6; 9 and he is unlikely to challenge for a major title again, even though he showed some fine touches and great experience against a dangerous opponent.
On the same bill, highly rated Timothy Bradley beat Donald Camarena in a welterweight bout to take his record to 20-0; 11.
In Miami, Alejandro Hernandez won his flyweight bout against Marlon Marquez on a technical decision.
A clash of heads resulted in Marquez being cut so badly that the referee had to bring the action to an end in the ninth round.
Eric Ortiz, a former WBC champion, stopped Jonathan Perez in the eleventh round of a super flyweight bout to advance to 26-6-1; 17.
In Chicago, welterweight Ben Tackie fell to 29-6-1; 17 in losing a bruising scrap against Freddie Hernandez (21-1; 17).
Young Daniel Jimenez beat veteran Angel Chacon on points in a super featherweight bout to move to 16-1-1; 10 and closer to a title challenge.
Chacon, who has failed in two challenges for world titles, now stands at 39-7-1; 15.