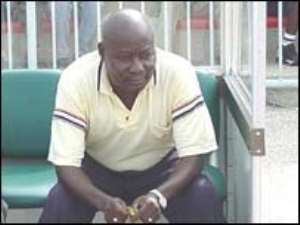 The quest of 12 African sides vying to pick only one of the three places available for next year's Men's Olympic Games is expected to receive huge interest when the continent's qualifying campaign kicks off this weekend.
Though the qualifying matches would clash with some important preliminaries for the 2008 African Cup of Nations finals, the Beijing Olympics qualifying competition is expected to draw the same attention.
However the West African derby between Ghana and Nigeria tops the bill this weekend in the Olympic qualifying series.
Ghana and Nigeria meet in Group A, in a game which revives a long-standing rivalry between the two countries.
For Nigeria the clash offers the chance to settle a score after their shock elimination from the 2007 All-Africa Games qualifiers by Ghana on away goals after two draws.
As Ghana continue to focus on Sunday's clash, the host have done most of the pre-match talk dismissing the strength of the Black Meteors even before kick off.
The Black Meteors led by the experienced Cecil Jones Attuquayefio, the man who plotted victory over Nigeria in the All-African Games qualifier admits that it would be a difficult game but says it's just one match in Group A, which includes Ethiopia and South Africa.
"The fact is that Ghana against Nigeria is always a very difficult task.
Ghana Football Association Ghana Football Association
"And it would be naïve for any one to underestimate the strength of either the Nigerians or the Ghanaians. In view of that, every body has to train very well and try very much to beat the Nigerians.
"If we are able to beat the Nigerians, that means we have not even won the battle, you see the point. It is only the battle but the war has not been won since you are going to play other games and if anybody qualifies for the round-robin then you have to respect all these teams, so we are getting ready knowing very well that Nigerian is a good team.
"We believe that the rest are also good, so if we want to say it is a league system, we need to beat everybody to able to be on top," Jones said in an interview with the GFA's website days before he departed with the team for a training tour ahead of Sunday's game.
Both sides will be strengthened with the inclusion of foreign-based players for Sunday's match in Abuja and for Jones Attuquayefio, he has all his call ups available.
Udinese striker, Asamoah Gyan has joined the rest of the team.
NB: (This report is exclusively brought to you by airline operators: Virgin Nigeria)