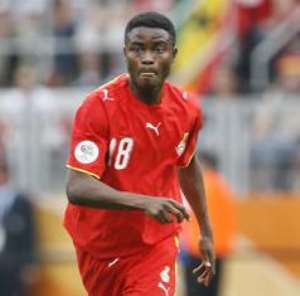 Addo has decided to extend his stay with Dutch champions PSV Eindhoven
Ghana midfielder Eric Addo has performed a dramatic U-turn by extending his contract with Dutch champions PSV Eindhoven.
The 28-year-old's decision comes as something of a surprise, as he had said last month that he would look to leave the club in June.
Addo, who cited a lack of playing time as his reason for wanting to leave, says he has been persuaded by club officials to sign a two-year contract.
"I was deeply worried about sitting on the bench all the time but I have been assured that things will improve," Addo said.
"The fans want me and I am delighted and happy to continue my stay here at PSV.
"After eight years in Eindhoven, I am settled here and I am looking forward to playing an important role next season."
Addo was hampered by a knee injury in 2000 after his record US$7.3 million move from Belgium's Club Brugge.
He recovered and spent two seasons on loan with rivals Roda JC Kerkrade in 2002 before returning to PSV in 2004.
At Brugge he was viewed as a potential superstar on the European stage after bursting into the first team ranks and helping them to win a Belgian championship in 1998.
Addo won the Young Player of the Year award in Belgium in 1998.