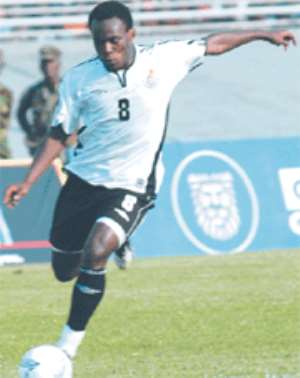 He played 120 minutes in the FA Cup final on Saturday, drank champagne out of the trophy and didn't go to bed.
But Michael Essien was still there for Kanu.
Chelsea's midfielder turned out for 90 minutes at Fratton Park – and put in so much effort he was even named man of the match.
It was selflessness that summed up all that the Kanu Heart Foundation stands for. More than 4,600 fans rolled up on a brilliant May afternoon to watch some of the Premiership's most-monied stars play for charity. The kick-off had to be delayed 25 minutes because of a late rush of supporters.
And they were rewarded with an exhibition of dazzling football, as a Friends of Kanu side beat Pompey's XI 7-5.
Essien, Arsenal pair Kolo Toure and Emmanuel Adebayor, and former Pompey trio, Yakubu, Amdy Faye and Diomansy Kamara, all shone on an afternoon that raised thousands of pounds for African children with heart problems.
But Pompey eyes were also on Sulley Muntari as he played at Fratton Park ahead of completing his club-record-breaking £7 million switch to Pompey from Udinese.
The 22-year-old occupied a central-midfield berth in front of Ghana team-mate Essien, who cost Chelsea £26 million two years ago.
But it was a player from Pompey's past, not their future, who got the ball rolling by opening the scoring.
Yakubu, skippering the Friends of Kanu side, scored for the first time at Fratton Park since leaving Pompey for Middlesbrough two years ago by curling a shot past Pompey keeper Nick Jordan.
Benjani Mwaruwari and Lomana Lualua never started up front together for the Blues last season. But they gave a glimpse of what they might do together next term if given the chance by combining for Pompey's equaliser, with Benjani deftly lifting the ball over keeper Paul Agu.
With Essien outstanding, however, Yakubu's team took a grip on the game with three goals in four minutes.
Nigerian striker Wale Kwick Ajet and Port Vale's Akpo Sodje struck before Southend defender Efe Sodje — guesting in Pompey's defence — bundled a cross into his own net.
'Taxi for Harry Redknapp,' said the announcer about Pompey's beleaguered boss in the home dugout.
But some sublime skills from Lualua and Franck Songo'o soon had the smile back on Redknapp's face.
Both deserved goals for some outrageous penalty-area tricks. And Kanu nearly got the goal the crowd craved when he forced Jordan to tip around the post.
But it was Benjani who added Pompey's second before the break, nodding in a corner.
The second-half saw Adebayor, in banana-coloured boots, Carlton Cole, Danny Shittu and Joseph Yobo join Yakubu's side.
But it was Lualua who netted next, ending a move started by Dejan Stefanovic to beat Agu with a flourish.
Benjani was desperate for a hat-trick but was shut out by the bulk of Shittu after rounding the keeper.
Akpo Sodje scored his second from Adebayor's pass before Songo'o produced the goal of the match.
The Fratton crowd were lapping up the attacking play in a game more competitive than the average friendly.
And they were on their feet when, receiving the ball straight from the restart, Songo sprinted past several white shirts, waggled his foot to beat the last defender and smashed the ball home.
When Kanu crashed one in from the edge of the box to make it 5-5 near the end, it seemed like the perfect climax to a memorable day.
But Kamara had other ideas as he smacked a low cross beyond Jordan, before Sam Sodje completed the scoring in the final minute.
Credit — Sportinglife