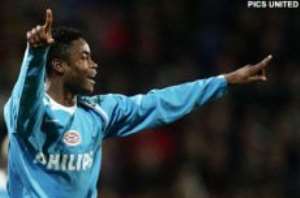 Ghana international, Eric Addo has signed a new deal with PSV Eindhoven.
The Black Stars defender's decision comes as something of a surprise as he had said earlier in the year that he would look to move on in the summer.
He cited a lack of playing time as his reason for wanting to leave, but he has performed a U-turn by inking a two-year contract.
"There were some possibilities to leave the club, but the chances of playing were no better than at PSV," Addo told the club's official website.
"I am delighted, I am really happy here at PSV.
"I am here now for eight years in Eindhoven, but we are settled here and I look forward to playing an important role next season."