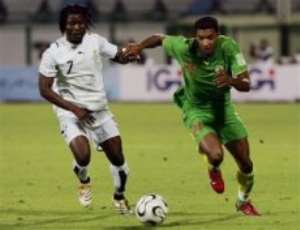 Laryea Kingston says Hearts are leading the chase for his signature - despite claiming he has received offers from other interested clubs.
The Edinburgh club are keen to make his move to Tynecastle permanent after a successful six-month loan spell from Russian club Terek Grozny.
The Ghana midfielder, 26, said: "For now, I'm very happy with Hearts.
"Some opportunities are in the pipeline but Hearts are my first choice - it looks positive I will be staying."
Kingston shrugged off an ankle injury to play in the final Scottish Premier League game of the season at Kilmarnock on Sunday.
He said the 1-0 defeat at Rugby Park would not be his last as a Hearts player, with talks under way between Kingston's agent and majority shareholder Vladimir Romanov.
"I'm happy to be with them (Hearts) and my family is happy to be in Edinburgh - now I'm going back home to rest and then I will see what happens," added Kingston.
Kingston said: "I have one month's holiday and I told them to give me some time, at least two weeks, to rest my mind.
"I'm very tired. I've been working all year both with my national team and at club level and I need some rest.
"I also got injured in the last game but I played in this game because I wanted to represent the team and I know that my team needs me.
"I had to take the risk to play for the team."
Kingston has already established himself as a firm favourite with the fans.
And Hearts assistant coach Stevie Frail hopes the reception he - and the rest of the players - received after Sunday's game will convince him to extend his stay in Gorgie.
Frail said: "He will hopefully want to play in this environment after seeing the way our fans were at the end of the game.
"I know they came here hoping for us to finish third in the league but they gave the players a great reception.
"Hopefully he will see how big a club we are and will want to stay a part of it."