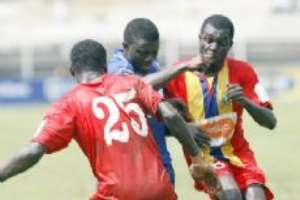 The premiership's top four clubs on Monday signed up to play in the 6th edition of the off-season tournament for the elite campaign, the Top-4 competition.
The 1.4 billion cedi competition is played among the first four clubs of the premier league at the end of every soccer season.
Accra Hearts of Oak, Kumasi Asante Kotoko, Kpando Heart of Lions and Berekum Arsenals compete for honours when the tournament commences on Sunday at two venues, the Coronation Park and the Robert Mensah Sports Stadium.
The participating clubs were presented with a cheque for 175 million cedis as their appearance fee after signing contracts binding them to the tournament with the organisers.
The tournament, has Onetouch Ghana Limited, as the headline sponsors, Coca Cola Ghana Limited and First Atlantic Bank as the supporting sponsors.
FA president, Kwesi Nyantakyi endorsed the organisation of the tournament and promised the full backing of the Association adding that the FA will do everything possible to see to its success.
He said the tournament is relevant because it offers players and clubs the opportunity to keep their teams busy during the off season.
Below are the fixtures of the six week old tournament
Round One:
SUNDAY, MAY 27, MATCH ONE
Cape Coast: Lions vrs Hearts
Sunyani: Kotoko vrs Arsenals
SUNDAY, JUNE 3, MATCH TWO
Cape Coast: Hearts vrs Kotoko
Sunyani: Arsenal vrs Lions
WEDNESDAY, JUNE 6, MATCH THREE
Cape Coast: Hearts vrs Arsenal
Sunyani: Kotoko vrs Lions
Round Two
Sunday, JUNE 10 MATCH FOUR
Cape Coast: Lions vrs Kotoko
Sunyani: Arsenal vrs Hearts
SUNDAY, JUNE 17, MATCH FIVE
Cape Coast: Hearts vrs Lions
Sunyani: Arsenal vrs Hearts
SUNDAY, JUNE 24, MATCH SIX
Cape Coast: Lions vrs Arsenals
Sunyani: Kotoko vrs Hearts