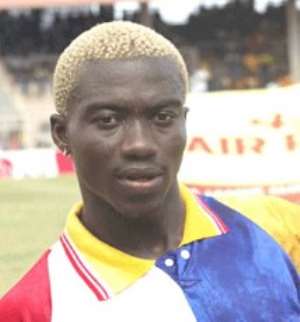 Almost a year into his extended four-year contract with Accra Hearts of Oak, Bernard Dong Bortey (pictured) is been caught in the middle for breaching his contract after playing through a trial with another club.
City rivals, Accra Hearts of Oak and Great Olympics would be renewing their rivalry when they appear before the Football Association over the latter's tapping-up of Bernard Dong Bortey.
The Phobians have reported the conduct of the Wonder Boys to the Ghana Football Association for using the player who still remains under contract with Hearts of Oak.
In a formal complaint to the FA, Hearts of Oak are calling for an investigation into the matter and also demanding that Great Olympics be fined 300 million cedis once proven guilty for using a player under contract with the intent to induce him to breach the said contract.
"It is our contention that Accra Great Olympics, in serious violation of FIFA Regulations, have induced the player to breach his contract by offering him the platform to train with them and, consequently, a breach of Article 33 (2i) of the Ghana Football Association Regulations," a statement from Hearts of Oak said.
Bernard Dong Bortey renewed his existing contract with Hearts of Oak which had ended for four more years after appending his signature to a new deal on January 15, 2007.