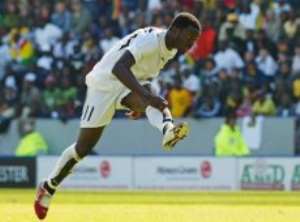 Udinese star Sulley Muntari could be a Portsmouth player within a week, his agent Stefano Antonelli has revealed to skysports.com.
Harry Redknapp has been attempting to sign the Ghanaian international ever since the World Cup finals and, after baulking at his reported £10million price tag in January, is now 'very, very close' to securing the much-admired midfielder.
Pompey are looking to bring quality into their side after narrowly missing out on a Uefa Cup place, and recruiting Muntari would be something of a coup for the South Coast side and owner Alexandre Gaydamak.
Redknapp could face late competition though, as two Italian sides are still sniffing around the Udinese star, and could yet make a last-gasp bid to snatch Muntari from under Pompey's noses.
However, Antonelli has revealed that the Premiership club are in pole position to sign his client as only minor details remain outstanding before a deal is reached, and Muntari could be confirmed as the first summer signing at Fratton Park in the coming days.
"I know very well that Udinese and Portsmouth have spoken about Sulley for a long time, from last summer exactly," Antonelli told skysports.com.
"I think that they are very, very near to the real price of Sulley.
"Very near but not closed because in Italy there are one or two teams that are very interested in Sulley, so Udinese is waiting for an official offer.
"But in this moment I know Pompey and Udinese are speaking every day and they are very, very close, there are just details.
"I don't think it is very long, maybe this week, or next week, because it is a long time that the clubs have spoken about the situation.
"It is my thinking that in a little time this situation can close."
Muntari has previously been linked with Serie A runners-up Roma, where he would link up again with former Udinese coach Luciano Spalletti.