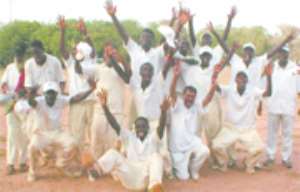 Ghana's national cricket team booked a place in the semi-finals of the ongoing North-West African Tournament in The Gambia after defeating Sierra Leone by 68 runs in their opening match.
The game, played at the Medical Research Council (MRC) cricket oval in Fajara, a suburb of Banjul, saw the Sierra Leoneans opting to field after winning the toss.
But the Ghanaian batsmen took advantage of the weak
fielding of their Sierra Leonean counterparts to score a total of 208 runs all out.
This score was powered by Samson Awiah's 79 runs which turned out to be Ghana's higghest individual score, complemented by 36 by Captain Francis Kofi Bakiweyem, 25 by Kofi Anafi and 23 by Obed Harvey Agbomadzie.
In the second innings, however, Ghana's bowlers bowled wide on several occassions and this cost the team more than 40 runs.
The Ghanaian team built around the likes of Rufus Ntiamoah, Mark Bawa, Kofi Bagabena, Abdul Karim Sumaila, Kofi Anafie, Matthew Bawa and Lawrence Ateak reorganised and piled pressure on the Sierra Leonean batsmen of Mohammed Monsary and Ibrahim Omara Sessay.
After only 40.3 overs, the Sierra Leoneans had been bowled out by courtesy of five wickets from Obed Harvey Agbomadzie and the other five from the likes of Peter Ananya and Abdul Karim Sumaila.
In an interview with the Graphic Sport after the match, Skipper Francis Kofi Bakiweyem said he and his colleagues were targeting the finals. "We are here to win and we are ready to work for it.  Against Sierra Leone we had a problem with our bowling but we will work on it for the game against Nigeria," he said.
The team's Jamaican coach, Ras Bingy, said he was pleased with the performance of the players but also admitted the weakness with bowling. "We will make sure that we seal that loophole before we play our next game because we are here for results," Coach Bingy said.
In another game played at the 22 July Square, Morocco beat an inexperienced Mali side after reaching a target of 41 runs scored by the Malians in only 3.4 overs.
By these results, Mali and Sierra Leone have now been rendered specators at the tournament as they have both lost two games each.
The semi-final matches will be played tomorrow.
Story by Nathaniel Attoh,