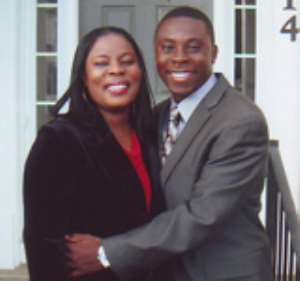 Freddy Koranteng Adu's long awaited homecoming to Ghana has been given special spice by American kit sportswear giants NIKE. The Ghana born American teenage football star is due to visit his country of birth later in the year with his kid brother Fro Akoto Adu.
The trip to Ghana is made the more exciting by the fact that Adu's younger brother Fro Akoto will also be with the family when they touch down on a date yet to be confirmed.
According to most US sports and soccer analysts the young Fro Akoto is also an exciting talent for the future.
Speaking exclusively to myghanafootball.com, Mrs Emelia Adu who is the proud mother and brainchild of the donation by Nike, had this to say.
"I was just strolling in my neighbourhood on one of my visits when i came accross these young kids playing soccer...the rest as they say is history" In truth, Mrs Emelia Adu called NIKE and asked if they could sponsor the team and she got an immediate YES!
According to Mrs Adu, it is characteristic of the social responsibilty theme that runs through the sports wear giants vision. "Nike really care and they have shown that in so many ways over the years".
It all adds up since Freddy has been planning a trip to Ghana and also because he is so passionate about helping less privileged youngsters. Although so much has been written and said about Freddy there are still alot of Ghanaian youngsters who crave for more.
Born in Ghana in 1989, Freddy Adu hit the headlines at the tender age of 10, when Italian soccer giants Inter Milan spotted his talent and made a six-figure offer for him that was turned down by his mother.
He went on to make his professional debut in US Major League Soccer at just 14, and now plays for the United States Under-20 national side.
Adu grew up in the port city of Tema in Ghana, where he played football sometimes barefoot against men much older than himself.
When he was eight, his mother won an immigration lottery, and he and his family moved to Washington D.C.
Adu became a U.S. citizen in 2003, when he was already the most talked-about player in American soccer history.
At 16, Adu was recruited to use his considerable fame to draw attention to the plight of children who haven't managed to escape poverty the way he has, recording a Public Service Announcement for WFP in which he calls for support for the fight to end hunger, which kills a child every five seconds.
After turning 18 a few weeks ago Adu pledged to continue his personal campaign to help less privileged children in the society.
HOT FACT
Adu became the youngest-ever member of a U.S. national soccer team when he made his debut for the Under-17 side at the age of 13.