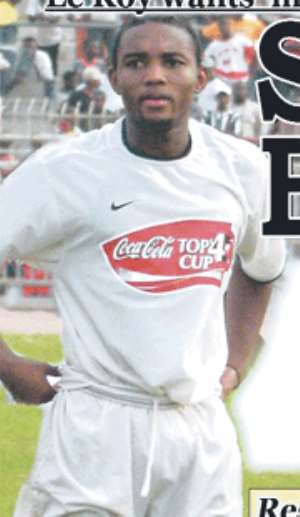 Heart of Lions and Black Meteors striker, Sadat Bukari, has caught the eye of Coach Claude Le Roy. The youngster looks set to be rewarded with a Black Stars jersey to prove he is ripe for the senior national team.
The sharp-shooting Lions striker scored four goals for Lions in the Premiership but it is his overall performance for the club and the Meteors which has won over Le Roy who has openly declared his admiration for the youngster, whom he describes as a "modern striker".
"I will give Sadat a chance in our [Black Stars] next friendly match," Le Roy said in an interview recently. "I like the way he runs and creates space and his aggression in front of goal."
Although Sadat is far from being the finished article yet, Coach Le Roy notes that he has qualities that make him a "modern striker" who is aggressive, sharp and always tries to create scoring opportunities, even within small spaces and in tight situations. That, in the Frenchman's opinion, makes the striker stand out among his peers.
In Ghana's last two friendlies against Austria and Brazil, the Frenchman fielded five youngsters drawn from the Meteors, including 16-year-old Tema Youth player Ekow Benson.
That tough approach and faith in the youngsters earned the coach lots of praise, but Le Roy says he would cast his net even wider and yet tread cautiously in his use of the youngsters in future national assignments.
"There are a lot of good players locally and if we give locals a chance it will increase the players' interest in the league. All the same I won't rush to introduce young players because it can kill their confidence if the timing is not right."
The coach has been a regular guest at many Onetouch Premeiership and division one games and kept his close touch with the Meteors, an exercise which has equipped him adequately with first-hand information about the capability of local players and the Olympic team.
"Right now it's difficult to trap me with local players. I have seen so many players; I know who can do what. I have some name's I'm looking at," Coach Le Roy said. "Most of the skilful players in Ghana are in the Meteors and that is the team for the future."