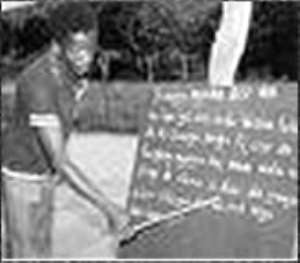 The Wassa Amenfi West District Assembly is to train senior secondary school graduates as pupil teachers and post them to deprived schools in the district.
Mr Alberto Terkyi, the District Chief Executive (DCE), said the district assembly was adopting the measure under the Youth-in-Employment Programme to address acute shortage of teachers in the district.

He was speaking at a forum organised by the chiefs and people of Kwasi-Larbi during a tour of some communities to inspect development projects.

Mr Terkyi said lack of teachers in many schools had been a major setback in the education sector and contributed to poor performance of pupils and students in the district.

He appealed to the chiefs and people to support the assembly's efforts to find solutions to it.

He told the people that the assembly would complete the community's block of three classrooms, office and a residential accommodation project before the end of the year.

Mr Terkyi also inspected potable water projects at Ohiamatuo, Simpa and Appiakrom.
GNA