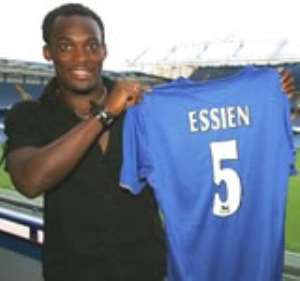 According to the Evening Standard, Chelsea midfielder Michael Essien was arrested on suspicion of drink-driving early on Monday and released a few hours later on bail.
The Ghana international was stopped by police in south London at 5.10 a.m. and asked to take a breath test after which he was arrested and taken to a police station for a blood test.
Essien, suspended for the first leg of Chelsea's Champions League semi-final against Liverpool at Stamford Bridge on Wednesday, has been bailed until a date in July, it added.
The Sun newspaper said Essien had been clubbing with friends and a blood sample showed he was over the legal limit but quoted his spokeswoman as saying: "The police allowed Michael to drive home in his own car. He is very upset and does not believe he was over the limit.
"Michael is a responsible person who would never drive if he thought he would be impaired by alcohol."