WANTED ! GHANAIAN FOOTBALLERS BORN IN 1994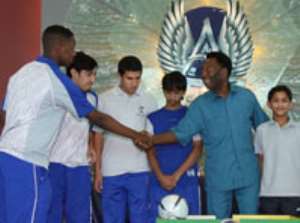 Qatar's Aspire Academy have revelaed a wide-ranging programme to identify and train top footballing talent from seven African countries."Aspire Africa. Football Dreams" was unveiled at a ceremony in the Qatari capital Doha on Wednesday which was attended by legendary Brazilian star Pele.
Starting in late May, 6,000 staff will screen more than 500,000 boys born in 1994 in seven different countries -- Algeria, Cameroon, Ghana, Kenya, Nigeria, Senegal and South Africa.
In the first phase, the best 50 players from each country, identified in the selection process, will go for a week of trials in the capital city of their respective nations.
The top three from each country will then go to the Aspire academy in Doha for four weeks of trials and testing.
Following a period of assessment and discussions with the families, the most talented players will be enrolled into the academy.
Andreas Bleicher, Sports Director at Aspire Andreas Bleicher said: "This is an incredible opportunity for talented young African boys to reach the heights of international football in the future.
"Everyone in football is aware of the significant talent that exists in Africa, and also of the challenges that can prevent this talent reaching its full potential."
The state-of-the-art Aspire Academy is the largest indoor sports arena in the world. Its main aim is to identify, educate and train talented athletes to compete in professional sports at the highest levels.