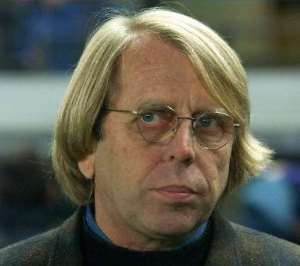 Coach Claude Le Roy has reiterated his desire to lead the nation to her fifth continental glory in 2008, when Ghana host the rest of the continent in the Africa Cup of Nations soccer fiesta.
He stated: "I have a bunch of committed and dedicated players who are psychologically prepared for the challenges in 2008 and that is why I'm confident of winning the trophy."
In his second media encounter in Accra, Le Roy said the current crop of players of the national team have demonstrated high level of tactical discipline and are very serious about the competition so "I don't see why we should not be the winners."
Coach Le Roy explained that 2008 would mark the maturity period for most of his players and the Nation's Cup will be the crowning moment for them.
"The only thing needed from them is to put up a lot of personal sacrifices to realise this dream. We have to put in everything to win the trophy because Ghanaians won't accept anything less than the trophy," he noted.
"This is why the players will have to forget about going home to attend to personal issues during the preparations, since every concentration must be on football, the competition and the trophy", Le Roy stated.
The coach also reckoned that they will be playing under much pressure during the Nation's Cup but added that a mini tournament will be organised later in the year to make the players get used to the situation.
Coach Le Roy said that he wants to have a longer future with the national team and believes this is dependent on the outcome of the Nation's Cup.
"I love Ghana, I want to stay longer and the only way out is to win the Nation's Cup to prolong my stay," he observed.
"It will be natural if officials of the Ghana Football Association, which I see as one of the well-organised on the continent, decides to dispel of my services in case I fail to win the Nations Cup," he confessed.
Source: GNA