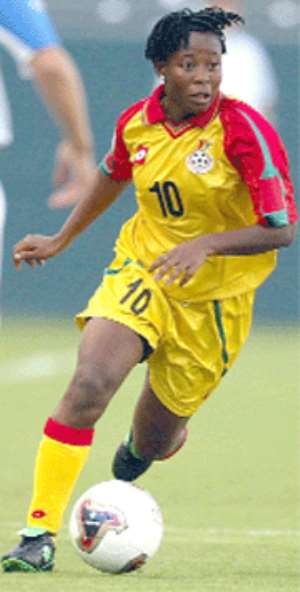 A delegation from Ghana, led by the President of the Ghana Football Association (GFA), Kwesi Nyantakyi, left Accra yesterday for the Chinese city of Wuhan for the draw of this year's Women World Cup (WWC).
Mr Nyantakyi was accompanied by the captain of the Black Queens, Adjoa Bayor who, in addition to witnessing the draw, will be part of the World XI team selected to play the Chinese national team as part of the programme for the draw which takes place tomorrow.
The draw will enable the Queens, one of Africa's two representatives to the WWC, know which sides they will be playing at the group stages.
The other African representative, Nigeria are also being represented by the General Secretary of the Nigeria Football Association (NFA), Bolaji Ojooba, and the coach of the Super Falcons, Kikelomo Adjayi. Sixteen teams have qualified for the WWC.
China as hosts, qualified automatically, while Asia is represented by Australia, Korea DPR and Japan. Central America is represented by former champions USA and Canada, with South America being represented by Argentina and Brazil.
Europe has five representatives — Denmark, England,Germany,Norway and Sweden with New Zealand, the last to qualify, representing the Oceania Confederation.
In the special World XI versus China match to be played in Wuhan, Bayor will be joined by two other Africans, Cynthia Uwak of Nigeria and Portia Modise of South Africa for the team made of 18 players selected from around the world.
The special charity match has featured prominently on the WWC calendar as part of its draw as a way of raising funds for the SOS Villages supported by FIFA.
It will be the third time a player from Ghana will be featuring for the World XI since the Queens made their maiden appearance at the WWC in 1999.
Vivian Mensah played in 1999, while former captain and Africa's number one goalkeeper, Memunatu Abiba Sulemana, featured in the 2003 event, both hosted by the United States.