Kotoko Bench To Blame For Loss To Hasmal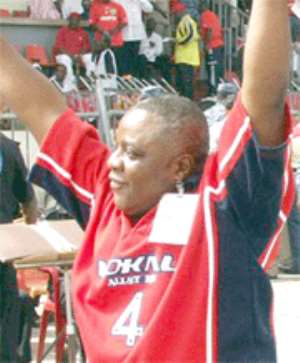 A management member of Kumasi Asante Kotoko, Mr Jerry Asare, has blamed the bench of the club for the 1-2 defeat last Saturday at the hands of Sekondi Hasaacas at the Sunyani Coronation Park.
Still recovering from the shattering loss, Asare reckoned that the defeat could have been avoided if Coach Bashiru Hayford had heeded counsel from some management members.
Speaking to the Daily Graphic yesterday, Asare who is the Operations Director of the club, could not fathom the reasons that informed the Coach's decision to abandon the regular team that had led them to victories in recent times.
"When we saw the line-up of Kotoko we realised that the coach had introduced some players who were not part of the winning team.
"We drew his attention and advised him accordingly but he did not pay heed to our promptings and we are all paying for the slip", he said.
He said "our policy clearly frowns on official interference in technical matters and it explains why we left everything to the coach at that critical moment, but the Coach must appreciate the wisdom in forging some collaboration with management certain times."
Asare revealed that with their league title aspirations virtually dashed, they would galvanise the team for the last two matches to book a place for next year's Champions League.
Story by Andy Quao