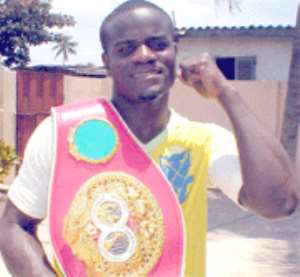 Dear Editor, The world woke up recently to the news that Ghana's own Joshua Clottey had disciplined former lightweight master, Diego Carrales, in their welterweight bout with two knockdowns.
The win was silver lining for Ghana boxing, especially after the local boxing scene had been plagued with some infighting with regard to the Jubilee Boxing Bonanza.
In congratulating Clottey I would also rally all Ghanaians, especially the Ghana Boxing Authority (GBA), to push him so that he can get a World title fight.
Clottey is now the hope for Ghana boxing. After the days of D. K. Poison, Azumah Nelson and Ike Bazooka as World champions, Ghana boxing has been without a world champion for years, and in Clottey I see a World Champion for Ghana anytime now.
I would advise him to be cautious in his rise to the world title since it is much difficult fighting for a world title.
He should take his training schedule seriously and eschew all forms of conceit or over-confidence which can undermine his chances.
I wish Joshua Clottey all the best.
Obed Danso-Mireku Snr