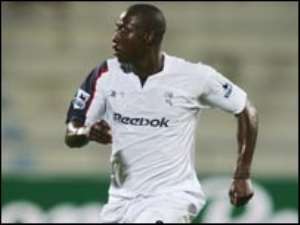 Coventry boss Iain Dowie says Khalilou Fadiga has suffered a ruptured Achilles tendon, which could end his career.The 32-year-old Senagalese midfielder collapsed in a heap late in Coventry's 4-0 defeat against Preston on Saturday.
"For a lad of his standing in the game, and his age, it is a massive blow," said Dowie.
"He has had a tough time of it. His Mum died recently but he got back and got his fitness up, had his first start for us last week and now this."
Dowie had given the former Bolton star a rest after his recent first start for the Sky Blues but was keen to see Fadiga in action as he pondered whether to offer him a contract extension in the summer.
"He is a quality player, no doubt," added Dowie. "I wanted to see him so we could make decision in the summer but it's a very serious injury. Whether he can come back from it, who knows?"
Fadiga was introduced as a substitute 20 minutes from the end of Saturday's capitulation to Preston but was carried off in the last minute.
It capped a miserable afternoon for mid-table Coventry, who were booed off at half-time and again at the final whistle.
Defender Robert Page and striker Kevin Kyle were also jeered during stages of the second half.
But Dowie said: "I don't understand booing at half time or the booing of Robert Page. That goes against everything he is about - he is a good honest player.
"I accept booing from the fans because they have a right to that but they should boo me, not the players.
"My job is to take this club forward and I want my sides to be tough, difficult to beat, play attractive football and grind it out.
"A short time ago it was four wins out of six at home and they were cheering us off the park but now they are booing us.
"It is disappointing but the nature of football is very reactive. The modern nature of football and the phone-ins that go with it mean that people voice their opinions very quickly.
"But although we can sometimes be criticised for technique, we are an honest side, so it is disappointing."